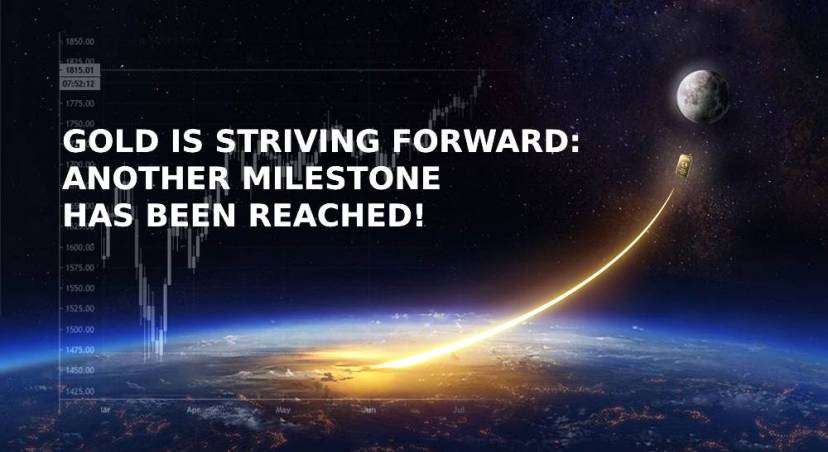 The price of gold has surpassed a new milestone of $1,800 per ounce. The increase in the price of the yellow metal has been caused by the fact that the economy and markets of different countries can barely function in conditions of lockdown*.
The frequent incidence of COVID-19 infection raises concern that the lockdown will be extended in countries with difficult epidemiological situation and renewed where restrictions have recently been lifted. These factors can have the most negative impact on the market economy.
Society relies on gold
Worries spurred demand for the yellow metal: a reliable tool of Financial Security. Americans demonstrate a particular activity in this regard.
Standard Chartered, a multinational financial services corporation, reported that gold exports from Switzerland to the United States had reached a record level of 127 tons in May. Since the beginning of the year, more gold has been shipped from the Alpine state to the US than in the past ten years.
In other countries, the population also willingly buys gold. For example, in Egypt, the demand for gold is growing despite its high price in local currency. Ragab Hamed, Associate Director at Sabayik al Kuwait, a company that specializes in precious metals, says that many Egyptians now prefer to store gold rather than sell it for profit. Such a trend is facilitated by the general belief that the price of the yellow metal will soon increase even further.
The rate remains unchanged: the only way is up
As the price of gold gains momentum, forecasts regarding its further growth are becoming more optimistic.
CEO of the U.S. Global Investors, Frank Holmes, draws parallels between the current situation and the previous global financial crisis. The expert recalled that over the three-year period from 2008 to 2011, the price of gold had risen from $750-$800 to $1,900 per ounce. According to Holmes, if a similar crisis cycle repeats, the price of the yellow metal may surge to $4,000 in the next three years.
In the chart: the price activity of gold over the past 13 years — it won't be long before the record of 2011 is broken.
As of July 13, 2020, the price of an ounce of gold is $1.807.
In less than a decade, the world has been experiencing a massive crisis yet again. And without a doubt, the best way out of this situation is gold. The current financial performance of the noble metal serves as an indisputable argument in favor of the reliability of gold during the economic downturn.
Glossary:
*Lockdown — restriction of free movement of people due to specific risks: epidemic, natural disaster or other reasons.